Looking for the easiest base muffin recipe? Introducing the two-step muffin recipe, which is the only one you'll ever need to know.
This is my favourite muffin recipe in the world because 1: it's so easy, and 2: you can add anything to it and never need another recipe.
Chocolate muffins? Add cocoa powder. White choc macadamia? Just throw them in. Oh, the ever-changeable recipe that you'll nail the first time (even if you're a beginner) and use forever.
Easiest Base Muffin Ingredients
2 Cups Self Raising Flour
1/2 Cup Sugar
1 Egg, Beaten
1/4 Cup Canola Oil
1 Cup Milk
Easiest Base Muffin Method
Mix ingredients together in a bowl.
Bake for 20 minutes at 120 degrees Celcius.
Uh, yeah. That's it. Add in whatever you like and they'll keep getting better! Easiest muffins ever, that will continue to impress.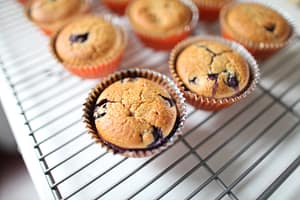 Want more easy recipes like this one? Check out our popular category here!