Looking for a genuine Tribe Skincare review? I've been using the hard to get hold of Tribe Skincare Trial Kit for a month now, and here's what I really think.
I've been venturing out of my skin care routine lately.
For my fellow sensitive skin gang, we all know that finding something that doesn't burn your eyeballs out and turn you redder than a bell pepper is generally a holy grail and should be repurchased at all costs.
So generally, I don't try anything that I haven't had a sample of.
Full disclosure: I didn't know Tribe was so popular when I bought it. I saw the lovely owner post something in a Facebook group, so went to check out her website.
Upon reading the ingredients and reviews, I decided to give it a try. The day after I bought the trial pack it was all over Instagram and Facebook how it was sold out and everyone wanted one.
So, you probably don't need a review because you've probably already got the whole kit in full size now. Here are my thoughts anyway.
First Impressions: Tribe Skincare Reviews
Tribe is Vegan Skincare, and it's also cruelty free which was a big deciding factor in my purchase.
The copy on the website is also heavily geared towards people with sensitive skin, which was the final factor in my decision.
When I ordered the trial kit, like others, I was a little surprised at how small it was. Then, of course, when you consider $50 for a sample of products that would total out to $195 if bought full size separately, the size and price were actually really generous.
The products smell really good, too – however it seems to be a more natural scent, not perfumed.
The Scrub Me Exfoliant stood out the most as a product, as well as clearly natural. It smells a lot like oatmeal to me. I was expecting a cream or liquid, like most traditional exfoliators, and what I got was a powder you mix with water.
I love this exfoliant so much. You can essentially choose how coarse you want it to be, which saves a lot of product if you, like me, are usually using half of the bottle just scrubbing.
It's also great if you haven't found a product that isn't gentle enough for you. This exfoliator gives you total control and was a stand out for me straight off the bat.
Four Weeks In: Tribe Skincare Reviews
Four weeks into using Tribe Skincare and I'm ready to tell you if it's worth the buy.
Short answer: Yes.
Some of the most pressing questions when purchasing a 'sensitive skin' skincare product.
Is Tribe Skincare good for sensitive skin?
Yup. Every case of dermatitis is different, though.
I suffer from psoriasis, particularly on my eyelids, and redness in my chin and cheeks. I saw a reduction in redness as well as no psoriasis flare ups.
They are usually rampant in Winter, by the way, which is when I tried this range.
Does Tribe Skincare work?
Let's be real, a lot of products that are on the market for sensitive skin simply aren't effective for clearing up blemishes or hydrating your skin.
It seems eliminating those irritable ingredients takes away the 'key' to good quality skincare. This is where Tribe Skincare makes the difference.
Tribe Skincare Hydrate Me! Night Moisturiser is one of the best night-time moisturisers I've ever used.
It leaves my skin feeling soft and refreshed without leaving an oily film behind which is so often found in night time products.
Is Tribe Skincare worth the money?
Overall, my experience with Tribe was really good. When it comes to this Tribe Skincare review, I'd recommend jumping in and buying the exfoliator and the night moisturiser full size. It's what I will be doing.
The Balm cleanser and the day moisturiser were both exceptional quality, and if you haven't found something you love for sensitive skin then you absolutely need these products.
For me personally, I don't think they will be added to my daily routine – but they smell so good that my mind might change!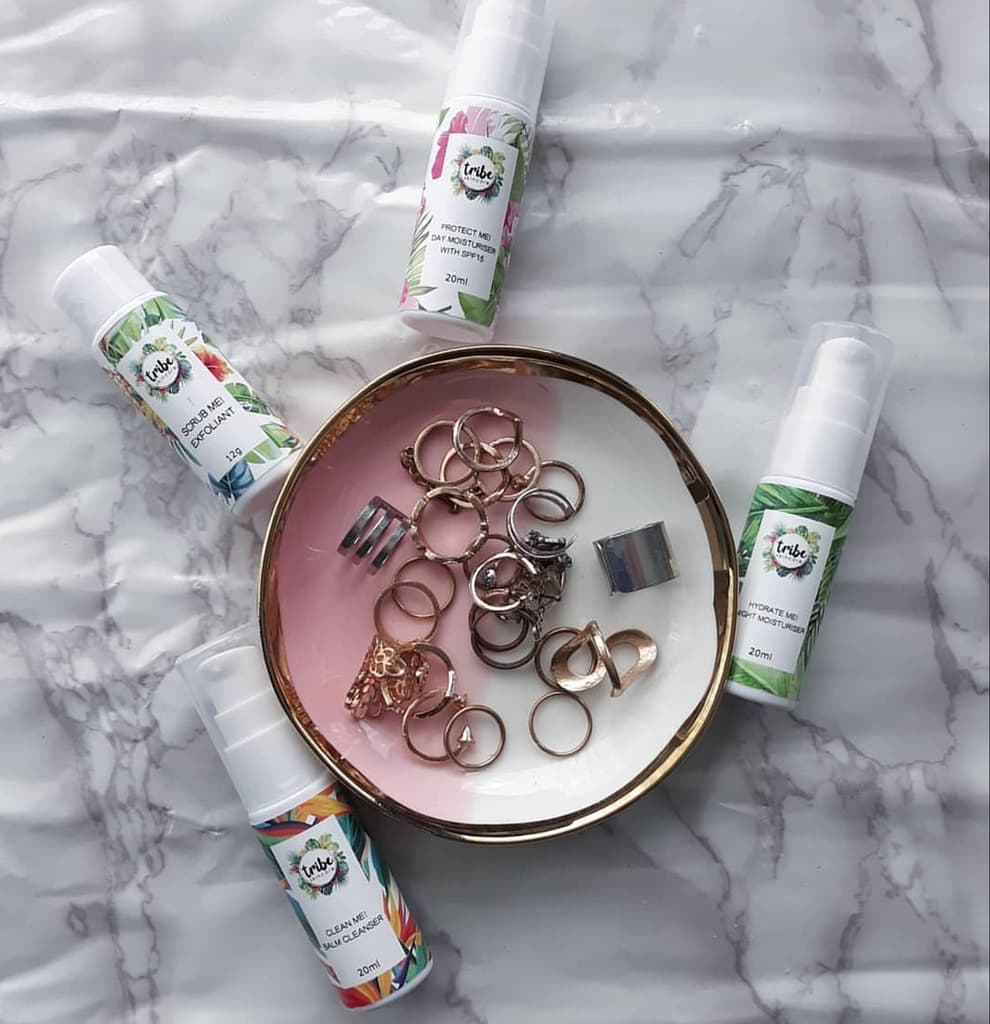 If you've already tried it and have your own Tribe Skincare Review, let me know in the comments what you thought.
Until next time