Today we've got a guest post by Madison Varner from Happy Caffeinated! She's going to run through some of the basics of makeup brushes and their purposes for beginners!
I didn't think I needed makeup brushes either…
I'll be honest with you; it took me an embarrassingly long time before I started using makeup brushes to apply my makeup every morning. I would use only my hands (I know, I can't believe I did it either) and those cheap makeup pads that come in a pack of 20 for 3 dollars. I didn't think that I needed brushes until I was gifted some brushes for Christmas from a friend. I noticed how much smoother and put together my face looked, and I was a changed woman. I went out and bought more brushes immediately.
Since that day, I have formed quite the collection of makeup brushes. I have friends tell me that they use brushes but they don't know what the correct use for them is. I started thinking to myself "I'm sure that there are lots of people who need some help figuring out what each brush is meant to do". It was something that took me a little bit to figure out. So I am here to let you know what the basic makeup brushes you need are and what their purpose is.
Let's start with the overall face brushes. These are to even your skin tone and will be the base of your makeup routine
Foundation: This brush is what I use to apply my liquid foundation. It is made of thick hairs and there are a lot of them. The brush hairs are very compacted together to make sure that no foundation seeps through wasting my product.
Concealer: This brush is the smallest brush I own. I use this one solely for the purpose of covering up those pesky pimples.
Powder: I use this brush for my setting powder after I finish up with the foundation and concealer.
Now it's time to add some colour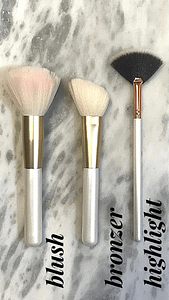 Blush: This is the largest brush that I have. I just get a little bit of blush powder on the ends and tap it on my cheeks. The brush is large enough that it covers my entire cheek and I'm done with that step of my makeup process in three seconds.
Bronzer: This angled brush is perfect for contouring my jawline and cheeks.
Highlighter: The medium fan brush applies the highlighter to my cheekbones and the bridge of my nose. The fan is perfect for giving my face a light dusting of highlight.
Let's Talk about Angles
Eyeliner Angled Brush: I use the smallest angled brush for when I use cream eyeliner, or black eyeshadow if I have run out.
Angled Eyeshadow Brush: This brush is my go-to for applying eyeshadow. It sweeps over my eyelid so nicely and gives me full coverage.
Angled Eyebrow Brush: I absolutely love this brush! It is perfect for shaping my eyebrows, and it is thin enough to add texture and give the illusion that my eyebrows are fuller than they actually are.
For that Smokey Eye Look
All of these brushes have the same purpose which is for smudging your eyeshadow. The smudging gives your eyeshadow more of a blurry, sexy, smokey look. I use these after I have applied all of the eyeshadow that I plan on using.
For that Natural Everyday Look
These brushes also have the same purpose. I use these brushes after layering my eyeshadows. These are for blending all of the colours together to give it that finished look and getting rid of any harsh lines. These are the most used brushes that I use every single day because even on the days that I don't want to wear makeup, I make sure that I do eyeshadow, eyeliner, and mascara.
Time to Clean!
It's recommended to clean your makeup brushes once a week, but I am a very busy person so I typically clean my brushes about once every other week. I got my cleaning pad for about $5 from TJ Maxx. Some people use a cleaner specifically for makeup brushes but I use my little homemade concoction which works like a charm. I just pour a decent amount of dish soap into a bowl and add just a little bit of olive oil which acts as a conditioner for the brushes. I just swirl a little bit onto the brushes and scrub them on the cleaning pad under some warm water and it is the most satisfying thing ever!
This blog was written by Madison Varner, the author of Happily Caffeinated. Happily Caffeinated is a blog dedicated to motivating women to become their best selves both inside and out. She is a teacher who has discovered her passion for writing and blogging! So grab a cup of coffee and check out happycaffeinated.com!