New favourite organic skincare brand alert! This is my long-awaited Dope Skin Co review.
I've been using the Dope Skin Co Antioxidant Clay Mask and the Dope Skin Co Antioxidant Rose Clay Scrub for six weeks.
This is a natural hemp-based business. They're vegan, cruelty-free and 100% Australian, so I had to give them a try.
My first impressions of this business started with the email stating they'd received my order. It was a little note about how their products are hand-made in small batches to ensure freshness, and that mine was in the making. Super cute!
Shipping was out of the business' control due to COVID delays so I'm unable to comment on Dope Skin Co shipping time. There were only three short days between my order being placed, and my products being produced and dispatched.
I'm an antioxidant fanatic. I'm also crazy about great vegan skincare brands and shop exclusively cruelty-free.
When I noticed that Dope Skin Co was all of these things, as well as hemp-based, I had to try it.
The Dope Skin Co Antioxidant Acai Clay Mask is very soothing, and it's such a fun shade of purple it makes self-care Sunday extra glam.
Upon removal, I immediately noticed my skin felt more smooth and hydrated than before I applied the mask. I have a sensitive eye area and this product did not irritate me.
My skin type is usually normal, but as I'm getting older it's leaning more towards the dry side. Regular use of this mask over the past few weeks has helped to relieve the tight feeling in my skin and provided an overall improvement in my skin's appearance as far as hydration goes.
I think I've noticed a slight decline in blackheads and blocked pores as well.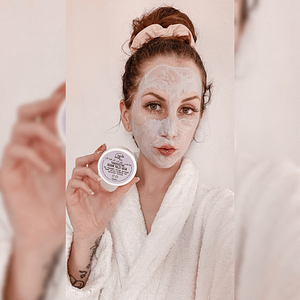 Dope Skin Co mask turned my face red.
Don't panic if the Dope Skin Co Antioxidant Acai Clay Mask turns your skin red. It's only superficial staining from the acai!
The longer you leave it on, the more noticeable the red mark will be. This happens with all organic skin products that use a natural colouring.
Do you know how vegan beetroot lip gloss contains no nasties but still leaves colour on your lips? This the same concept. If you crush up some acai berries and rub them on your face, you're going to turn purple or red.
This being said, I'm not a medical professional. If you experience discomfort or pain while using any type of skin product you should discontinue use and consult a professional.
The Rose Clay scrub from Dope Skin Co leaves my skin feeling so fresh and clean.
I have dry skin and I've seen a notable change with regard to flakiness and patchy areas. The scrub is gentle, exfoliating and hydrating. I recommend it highly.
Due to my dry skin type, scrubs often leave my skin feeling tight. I've not experienced this with Dope Skin Co.
I experience sensitivity with a lot of botanical products, especially around the eye area, even when I avoid it. Again, I haven't experienced this with Dope Skin Co.
I really love the ingredients in the range. Since I'm almost 25, antioxidants are a big seller for me since they help to fight signs of aging.
I'm also loving that hemp is taking off. It is so nourishing and gentle for your skin.
I'm happy with my Dope Skin Co products and will be purchasing again in the future. I am excited to try the serum, which I skipped in the last order due to a packaging shortage.
If you catch this post early enough, you can still take advantage of Dope Skin Co's special offer – 40% off sitewide launch sale.
Go ahead, you won't regret it.
Are you still looking for more beauty review? Why not check them out here.